Ireland are to face New Zealand at Christchurch's Rugby League Park on June 16, 2012, the New Zealand Rugby Union has confirmed.
Christchurch was left in ruins following a devastating earthquake in February and the city was unable to host any matches during the recent Rugby World Cup as a result of the damage to the AMI Stadium..
While the AMI Stadium remains out of action, the site has undergone a huge redevelopment with its capacity raised to 25,000 and the NZRU has confirmed it will host the Crusaders' 2012 Super Rugby fixtures as well as the Test between New Zealand and Ireland next June.
"We are delighted for the residents of Christchurch that they will have a venue capable of hosting major international concerts and sporting fixtures," NZRU chairman Mike Eagle said.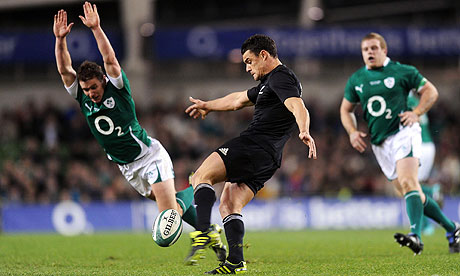 "Christchurch has not hosted an All Blacks test match since the Bledisloe Cup match in August 2010."
Ireland will travel to New Zealand for a three-Test series against the newly-crowned world champions with the first game scheduled for June 9 in Auckland, while Hamilton will host the third and final test on June 23.
"Ireland really set the tournament on fire and it will be great to have them back in New Zealand next year," NZRU chief executive Steve Tew said.
"It is particularly special that they will play in Christchurch at the redeveloped Rugby League Park - the first Test match in Christchurch since the Canterbury earthquakes."

- http://www.setanta.com